Ex Brazilian minister calls for treating Argentina gently, "not with a cannon ball"
Monday, May 30th 2011 - 06:05 UTC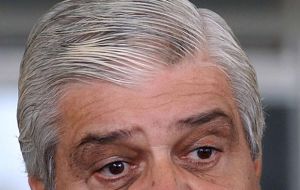 Former Brazilian Industry and Foreign Trade Minister Miguel Jorge decided to weight in on the bilateral trade conflict currently affecting Brazil and Argentina, and surprisingly came out in defence of the Cristina Fernández de Kirchner administration, comparing President Rousseff's move to impose non-automatic licenses on car and auto-parts imports as "firing a cannon ball."
Jorge, who served as former president Lula da Silva's minister in the last four years of his government, suggested the Brazilian government to "be patient and gentle with Argentina" during trade negotiations, comparing the decision made by the Rousseff administration to restrict vehicle imports to "firing a cannon ball" against the local government.
Argentine and Brazilian negotiators toned down the bilateral trade conflict and remarked that there's a new meeting between both sides next Thursday in Brasilia.
"We are to Argentina what, despite some large differences, China is for Brazil. The population, the GDP and Brazilian industrial production rates are several times larger than in Argentina," he said.
He stated, however, that the trade conflict with Argentina "is not a constant" and recalled that during Lula da Silva's administration "both parts always found a way to come to an agreement".
Brazil's Development, Industry and Foreign Trade minister Fernando Pimentel confirmed bilateral negotiations this week and admitted that the latest discussions in Buenos Aires marked advances but not an agreement for the elimination of non automatic import licences. ""We advanced; there was no failure or impasse, we are going to overcome differences".
The two senior Mercosur partners have a long story of trade disputes and both have applied non automatic import licences, Argentina on a more regular basis. However eventually understandings are reached and trade normalized.
Pimentel revealed the Argentine negotiators had sounded Brazil with the possibility of applying a system of "voluntary non automatic import licences", but "the issue is complicated, a bit difficult, and before we consider the proposal we must consult with the private sector".