Brazil and Paraguay with record crops of soy beans and export volumes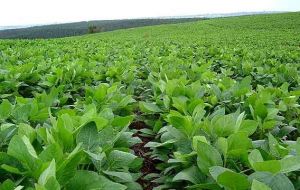 Mercosur members Brazil and Paraguay harvested unprecedented soy crops this year while Argentina's results are disappointing limiting its exports, according to the latest report form Hamburg based Oil World.
Brazilian soy exports from the September 2010/August 2011 year are forecasted to reach a record 31.12 million tons from 28.4 million the previous season, says Oil World. This is the result of a record crop of 73 million tons compared to 72 million tons the previous harvest
An excellent crop also means that Paraguay will be exporting this year 5.64 million tons of soy from 4.87 million tons previously.
However for Argentina results are disappointing, dropping to 9.67 million tons from 11.82 million tons the previous season, says Oil World.
The publication estimates that the Argentine soy crop in 2011 will fall from 49.2 million tons because of adverse weather conditions from 53.9 million tons the previous harvest.
Farmers in Argentina have been reluctant to sell soybeans, Oil World said. Only 2% of the crop sold in March, down from 4% a year earlier, and 5% sold in April, compared with 10% in 2010, according to the report.
Argentine farmers had sold only a fourth of this year's soybean crop, a six-year low, selling corn and wheat first, the researcher said.
On the other hand global soy bean imports are estimated to increase 4.6 million tons for the 2010September2011 year reaching 93.5 million tons, points out World Oil.
China is forecasted to absorb 58% of that volume equivalent to 54.2 million tons up from 50.34 million tons the previous period.
Beijing's decision to sell early this year its stocks of soy beans to help contain inflation could see China aggressively present in the second half of 2011 to build up reserves.