CFK praises Mexico and thanks Calderón for understanding Argentine trade policy
Tuesday, May 31st 2011 - 08:32 UTC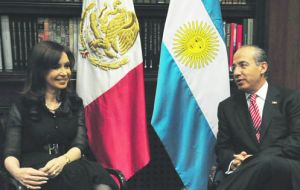 Argentine President Cristina Fernandez de Kirchner, CFK, described relations with Mexico as "splendorous" and said links are solid because both countries "have helped each other through out difficult times in history".
Cristina Fernandez met on Monday President Felipe Calderón at the Los Pinos presidential residence in Mexico City where she praised the partnership between both countries and said that "Latin America has a very important role to play in the history of the 21st century."
Before heading to Italy, CFK addressed President Calderón and his staff and remarked that "Argentina and Mexico have never had such a splendorous and close relationship", adding that "we must remain on track, as both nations are called to play very important roles in the history of the 21st century."
"The friendship between Mexico and Argentina is deep and sincere. Governments can't make something up that doesn't have sustenance on society. Both countries have helped each other throughout difficult times in history" underlined Mrs Kirchner.
"We politicians tend to believe that everything lasts forever, but things don't work that way. We have to let our country grow," she added.
The Argentine President travelled to Mexico to seal several agreements between the two countries and to thank Calderón for not having complained about the trade restrictions imposed by Argentina's non automatic import licences, which affected many regional countries, including Mexico.
According to sources, Mexico is one of the most affected countries after the measures adopted by the administration of Fernández de Kirchner, specially its auto industry as Mexico exports large number of vehicles to Argentina. The Mexican tools and textile exports to Argentina were also hurt by Argentina's trade policy.
Mexico has shown 'great understanding' of Argentina's new policies in comparison to Brazil, China, and the European Union since contrary to these commerce partners, the North American country has hardly complained or disapproved the trade barriers.
According to Argentine sources a strong point for such mild position from Mexico is that the country enjoys a trade surplus of 600 million US dollars with Argentina.