Cristina Fernandez plans to launch re-election bid June 23, says close associate
Tuesday, May 31st 2011 - 22:57 UTC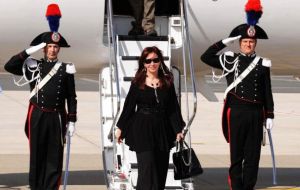 Argentine President Cristina Fernández de Kirchner may announce her bid to run for re-election at a rally on June 23, according to ruling-party lawmaker and close associate of the head of state, Carlos Kunkel.
"It's going to be made public. I think the launch rally is planned for June 23" Congressman Kunkel told a Buenos Aires radio.
But after realizing what he said, the lawmaker did not want to repeat it or give any more interviews. His spokeswoman was contacted later and said that Kunkel only mentioned this as a possibility.
President Cristina Fernandez, who has a wide lead in the polls, looks almost certain to seek a second term in the October 23 presidential election, but this is the first time one of her allies has put a date on her expected announcement.
Political parties have until June 25 to present their candidates for compulsory primaries before the presidential vote.
The Head of State has said she is "not dying to be president again," but political analysts say such comments and her decision to postpone an announcement are aimed at whipping up support for her candidacy.
Cabinet Chief Anibal Fernandez had said the president would wait until the last minute to announce her decision on whether to seek a second term.
Meantime President Cristina Fernández arrived Tuesday to Rome to head an official two-day visit in which commercial agreements will be closed.
The Argentine president will meet with Prime Minister Silvio Berlusconi, and is also to attend the official celebrations for the Italian Unification's 150th anniversary.
The festivities in aid of the Italian Unification begin on Thursday, where eighty heads of State from all over the world are to participate.
On Wednesday Cristina Fernandez will visit The Quirinale Palace where she will meet with Italian President Giorgio Napolitano. Following the Argentine leader is to be received by Prime Minister Silvio Berlusconi.
Following her official visit Fernández de Kirchner will travel on Friday to Venice, where she is to inaugurate the Argentine Art exhibition "Memory and Liberty in Argentine Art throughout the 20th Century," in the Ca Giustinian Gallery.