Falklands stamp release features the unique but endangered Southern sea lion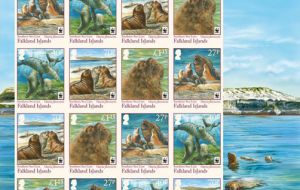 The Southern sea lion (Otaria flavescens) features in the latest Falkland Islands stamp release, which became available for sale this week.
Adult males can reach up to 8ft in length, 5ft in height and weigh up to 700lbs, and colonies are known to breed at 68 sites in the Islands, mostly on offshore tussac islands.
They frequently feed in kelp beds, and sometimes prey on penguins, but their main food is octopus, squid, lobster rill and fish caught reasonably close to the shore. Sea lions themselves are preyed on by orcas and sharks.
However, numbers have declined dramatically since the 1930s, when more than 80,000 pups were born in the Falklands each year to a population of approximately 380,000.
Since then periodic surveys have confirmed a decline in numbers until the 1990s.
In 2003 a slight increase in the number of pups was recorded in comparison to 1995, but this still only represents 3.4% of the count obtained in the 1930s, meaning that the population remains alarmingly small. No clear reason for this has been determined, and the present population is considered vulnerable.
The decline in numbers, coupled with potential new threats from the fishing, oil and tourist industries, has highlighted the need for a conservation strategy for sea lions in the Falklands.
Accurate estimates of the size and distribution of the sea lion population is essential for developing these strategies, and Falklands Conservation, in association with the Sea Mammal Research Unit, has undertaken several surveys. (PN)
The set of stamps released for sale this week