Uruguay and Brazil pledge full support for Mercosur and Unasur
Tuesday, May 31st 2011 - 08:43 UTC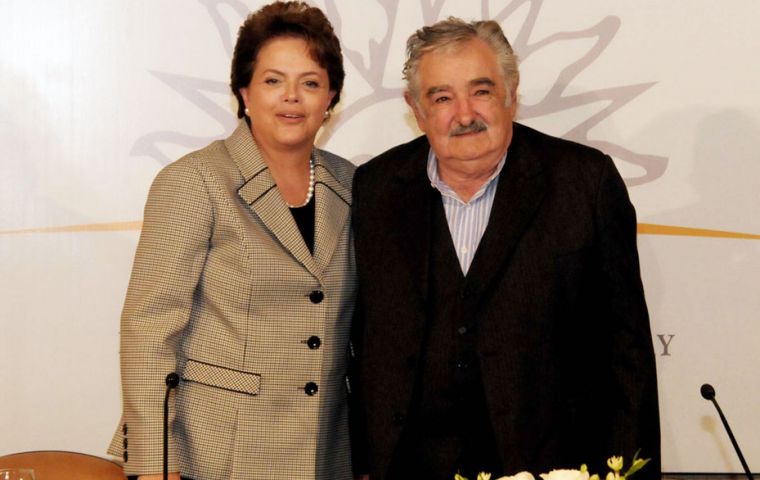 Uruguay and Brazil pledged Monday to continue strengthening the bilateral relation and regional integration through Mercosur and Unasur, after presidents Jose Mujica and Dilma Rousseff delegations signed fifteen cooperation agreements in Montevideo.
In a joint declaration following two hours meeting the two leaders ratified their firm commitment to strengthen" Unasur and their "priority commitment to the consolidation of Mercosur as an instrument for the improvement of living conditions of their peoples and for the international insertion of the block".
Rousseff and Mujica also coincided in the need to reform the United Nations, particularly the Security Council with the purpose of making it "more representative, legitimate and efficient" as well as ensuring that concrete results can be achieved during the coming UN General Assembly.
The Brazilian president arrived in Montevideo at mid-day and was taken directly to the Digital television development centre located in Uruguay's technological Laboratory, and which was mounted in cooperation with Brazil.
Last December Uruguay adopted the Japanese/Brazilian digital television norm and on Monday signed a Complementary Accord to the Basic Accord for Scientific and Technical Cooperation for the implementation of digital television and for expanding broad band to all homes.
Dilma Rousseff's delegation was made up of eight ministers who signed fifteen agreements with their Uruguayan peers, mainly in physical and energy integration.
This was Ms Rousseff's first visit to Uruguay since taking office as President, a visit that was delayed several times for different reasons. However Mujica and First Lady Lucia Topolansky met last January with the Brazilian leader when she took office.