US dollar looses 1.85% against the Uruguayan Peso in May; 7.44% in five months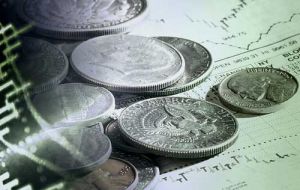 The US dollar continues to slide in the Uruguayan foreign exchange market having lost 1.85% in May vis-à-vis the Uruguayan peso, completing the steepest monthly drop so far in 2011.
The US dollar has lost 7.44% value against the Peso in the five months with the tendency to sell greenbacks and change them to Uruguayan currency remains particularly strong.
At the close of May the inter-bank rate for the US dollar was 18.60 Pesos, with average transactions during May 0.79% below the April average.
Although at the beginning of May private banks were active in the foreign exchange market which helped contain the slide, this was not enough; similarly at the end of May government banks and corporations and the central bank also were active purchasing US dollars.
However the massive influx of US dollars pushed the greenback to its lowest inter-bank exchange since June 2002.
Local exchange market operators in the current circumstances don't anticipate any changes in the erosion of the US dollar value in the Uruguayan market as is happening in other Latin American countries.