Cristina Fernandez says Argentine is back in the world stage with 'a bang'
Sunday, June 5th 2011 - 12:29 UTC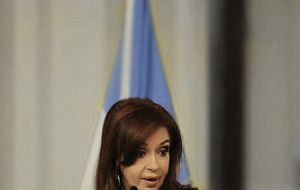 President Cristina Fernández de Kirchner said that the restructuring of Argentina's debt allowed the resumption of relations with Italy, and in human rights, art and culture Argentina was back in the world map with 'a bang'.
The Argentine president returned Saturday to Buenos Aires from a three day official visit to Italy that included several meetings with other heads of state and the participation in Italy's 150th Unification celebrations in Rome.
"Argentina's debt restructuring allowed the re-start of the relationship with Italy. Last year we ended the second stage of the debt restructuring, which allowed Argentina to be reinserted into the World, at least in strictly economic terms" said Cristina Fernández in Venice, her last stop in Italy for the Biennale and where she signed an agreement so that Argentina has a permanent art exhibition.
"Due to economic issues, and what had happened in my country during the 2001 crisis, none of the presidents could visit Italy" she added, referring to the conflict with an estimated 400.000 Italian bond holders following Argentina's record 2001/02 default.
Cristina Fernandez said that Italian president Giorgio Napolitano told her on Wednesday that "Argentina returned to the West on the issue of human rights," after signing a document for the disclosure of the files, belonging to the Italian embassy in Buenos Aires files during the dictatorship.
"I told Napolitano that we are back with a bang in all aspects: with the debt and now with art and culture, because Argentina will have a permanent exhibition space here in Venice," she added.
"This is a spot that the Argentine art has won," she said in a meeting with Argentine artists at the Biennale.
Earlier, the Fernández de Kirchner met with Israeli President Shimon Peres, and discussed the Middle East situation. Peres thanked the President for Argentina's stance on fighting international terrorism. On her part, Fernández de Kirchner stated that Argentina, as most Latin American nations do, backs the right of Palestine to be recognized a state by the UN.
Mrs. Kirchner also held a long meeting with Prime Minister Silvio Berlusconi who congratulated Argentina for its economic performance and social policies. The Argentine president also met in Rome with her Chilean peer, Sebastian Piñera, to talk on energy and integration issues