Tiananmen Square deadly crackdown remembered in Beijing, Hong Kong and Taipei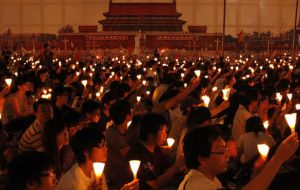 Thousands of Chinese and foreign tourists flocked to Beijing's Tiananmen Square on Saturday, the anniversary of the deadly 1989 crackdown on mass pro-democracy protests, amid a noticeable massive police presence.
The sensitive anniversary of the brutal June 4 army action in the heart of Beijing comes as the Chinese government wages its toughest clampdown on dissent in years, rounding up dozens of lawyers, writers and artists in recent months.
Visitors clutching cameras and umbrellas poured through security checkpoints into the giant square but many shied away from answering questions about the date or denied any knowledge of the events that took place 22 years ago.
Hundreds, perhaps thousands, are believed to have died when the government sent in tanks and soldiers to clear the square on the night of June 3-4, 1989. An official verdict after the protests called them a "counter-revolutionary rebellion" although the wording has since been softened.
Meanwhile hundreds of thousands of people took part in vigils in Taiwan and Hong Kong on Saturday to mark the 22nd anniversary of Tiananmen Square.
More than 150,000 pro-democracy demonstrators held a candlelit vigil in Hong Kong on Saturday. Activists laid a wreath at a makeshift memorial and bowed three times as is customary in Chinese mourning tradition. The crowds watched video messages from Wang Dan, one of the 1989 movement's leading voices, and Ding Zilin, of the "Tiananmen Mothers" activist group that represents people who say they lost relatives in and around Tiananmen Square in 1989.
Hundreds of people attended the rally and vigil at Liberty Square in Taiwan's capital, where they watched musical performances, held up signs and listened to speeches.