Argentina hosts first meeting of Unasur Economy and Finance Council
Tuesday, June 7th 2011 - 06:07 UTC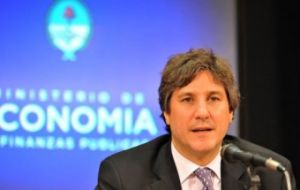 Argentina will be hosting on Thursday the first meeting of the South American Economy and Finance Council that will bring together Economy ministers and Central bank governors from members of Unasur, Union of South American Nations.

Argentina's Economy minister Amado Boudou will be chairing the two day meeting as president of the Economy and Finance Council.

According to Argentine sources Guido Mantega from Brazil; Katiuska King Mantilla from Ecuador; Dionisio Borda from Paraguay; Jorge Giordani from Venezuela and Fernando Lorenzo from Uruguay have confirmed attendance.

Unasur Secretary General Maria Emma Mejia; the Andean Promotion Corporation president Enrique Garcia; Executive Secretary from the UN Economic Commission for Latama and the Caribbean Alicia Barcena and the governors of Unasur central banks will also be participating.

Among the issues to be addressed are the expansion of a multilateral payments system based on local currencies; coordination of available financial funds in advantageous conditions regarding rates and time span, so that they can be applied to regional integration development programs.

The possible implementation of a regional mechanism for international reserves coordination, which could potentially be used for stabilization of temporary turbulences in the balance of payments from Unasur member countries also figures in the agenda.

The building of a regional capitals market "to which can converge excess surpluses and investment demands from the region as a valid tool to favour the channelling of existing resources".

"These discussions are geared to take advantage of the region's acknowledged external solvency since its debt/GDP relation is much more manageable; the trade and current account balances are far more comfortable and there is an important accumulation of reserves in central banks", pointed out Deputy Economy minister Roberto Feletti in reference to other regions of the world.

The Argentine official said these factors helped the success with which the region addressed the crisis enabling it to make "solid growth advances, and which was also expressed in the explosive increase of inter-regional trade that soared ten times in fifteen years".

The South American Economy and Finance Council emerged as a result of the 2007 activities of the Unasur Financial Integration Work Group, GTIF, which led to the charter for the foundation of the Council last February.