Uruguay complains about low ratings from the risk agencies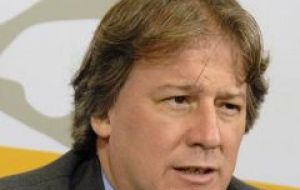 Economy minister Fernando Lorenzo accused rating agencies of failing to recognize the increasing strength of Uruguay's sustained economic growth and therefore denying its investment grade status.
In a report with Euromoney, Lorenzo expressed frustration of what he sees as the agencies overly cautious rating increases. Moody rates Uruguay one notch below investment grade and Standard & Poor's and Fitch both have the sovereign two notches below.
"Uruguay is being rated in a way that does not respond to reality to the economic framework and the quality of our policies", said Lorenzo pointing out that CDS spreads are comparable to investment grade Latin American countries.
"Clearly there is a difference between how the ratings agencies view large and small countries evolution", said Lorenzo.
Rating agencies argue that Uruguay's still high degree of "dollarization" of its economy and bank deposits weighs against, but Lorenzo points out it is "the only one point" that could be considered by the risk agencies to insist with the below investment rating.
However Lorenzo also points out that the agencies do not establish at which level of "dollarization", Uruguay could have access to investment grade. "This way it is hard to understand what agencies really want".
Mauro Leos from Moody's Latin America points out that there are sufficient elements to consider upgrading Uruguay's rating even when the economy remains relatively small and quite dependent on the evolution of commodities prices.
Lorenzo said that government policies managed to reduce external shocks vulnerability and insisted Uruguay has been punished by the agencies for having a small economy and market.
"So, does this mean that small economies can't have access to investment grade? If so, it is incredible", underlined Lorenzo.