China completes first high-speed electric train for Rio do Janeiro
Wednesday, June 8th 2011 - 23:20 UTC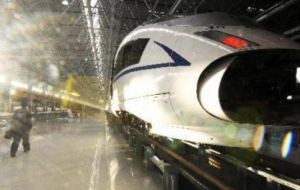 China has built the first high-speed electrical train for Brazilian capital Rio de Janeiro in time for use during the 2014 World Cup Football and 2016 Olympic Games.
This is the first time that a Chinese high-speed train has successfully entered the South American market, the official People's Daily reported.
The train is made of Type A stainless steel with a maximum speed of 100 km per hour. Each unit is composed of four coaches.
The Electrical Multiple-Unit train's body strength is 2.5 times that of European manufacturers, according to the report.
After an operation test lasting nearly one month, the train will be delivered in preparation for the 2014 FIFA World Cup and the 2016 Rio de Janeiro Olympic Games.