Croatia is "ready to join EU" and "good news" expected on Friday
Wednesday, June 8th 2011 - 06:05 UTC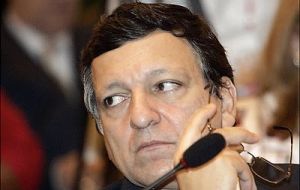 The European Commission will recommend that EU member governments finalize accession talks with Croatia, clearing an important hurdle on Zagreb's path to joining the 27-strong bloc.
A source at the European Commission said on Tuesday the executive will advise that Croatia is ready for such a move after making satisfactory progress in difficult negotiation areas such as competition policy and justice reforms.
Such a recommendation means EU governments will be able to discuss whether to finalise talks with Zagreb in the coming weeks and will likely persuade many to agree.
Croatia hopes to become an EU member in 2013.
"I expect the Commission to propose closing remaining chapters on Friday. The ... commissioners endorsed this today," the source said.
Commission president Jose Manuel Barroso also said on Tuesday that Croatia was ready.
"We are at a decisive moment of Croatia's long journey and I believe there will be very good news on Friday," he told a news conference in Strasbourg.
Despite the Commission's backing, some EU governments may want to take discussions on Croatia's readiness slowly, because of concerns over corruption and Zagreb's progress in coming to terms with its role in ethnic wars in the Balkans in the 1990s.
Croatia would become the second EU member from the former Yugoslavia after Slovenia, which joined in 2004.