Brazil crop of grains and oilseeds expected to reach a record 161.5 million tons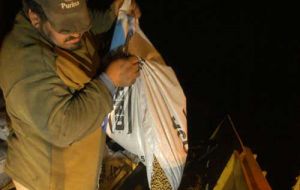 Brazil's 2010/2011 crop of grains and oilseeds is estimated to reach 161.5 million tons, up 8.2% (8.2 million tons) over the previous farm year (149.2 million tons), according to the latest survey from the National Supplies Corporation, Conab.
The area cultivated increased 3.8% totalling 49.1 million hectares, 1.82 million hectares more, and a significant boost from 2009/2010 with 47.4 million hectares. The increase was mostly attributed to cotton, first and second harvests of beans, soybeans and rice, besides the good weather conditions which helped to prepare the soil.
The soy crop is estimated in a record 74.99 million tons, which is 9.2% (6 million tons) more than in 2009/2010 when 68.69 million tons were harvested. Conab said that yields in soy-hub central-west Brazil averaged 3.125 kilos per hectare, while in Matto Grosso, the state with the most area planted, 6.4 million hectares, the average was 3.190 kilos per hectare.
The Agriculture Production Systematic Surveying from Brazil's Statistics and Geography Brazilian Institute, IBGE, shows that in May the overall crop estimate stood at 161.2 million tons, 7.8% up from last year's harvest of 149.7 million tons.
According to IBGE at the end of the second half of 2010, silos in Brazil had 22.9 million tons in storage, up 3.5% from a year earlier. The storage network with 9.092 locations mostly in the south and southeast of Brazil has a capacity of 78.8 million cubic metres, of which properly structured silos, mostly in the centre west (49%) and in the south (37%), can hold 55.6 million tons of grains.
The silos at the end of 2010 could hold 50 million tons of grains and the inventory showed 7.9 million tons of corn; 6 million tons of wheat; 4.2 million tons of soy beans; 2.55 million tons of husked rice and 1.1 million tons of coffee beans. Compared to the same period a year before, soy, wheat and coffee beans stored jumped 113%, 15.6% and 5.1% respectively, while corn and rice were down 2.1% and 24.3%.