Brazil's world's leading chicken exporter in 2011, ahead of the United States
Thursday, June 9th 2011 - 22:41 UTC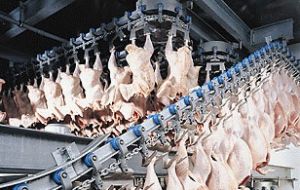 Brazil is poised to overtake the United States for the first time ever, as the world's leading exporter of chicken, with a third of global trade, according to the latest statistics from FAO released this week.
US agriculture thirty year exports supremacy is also being challenged by Brazil in other fields such as soybeans, beef, corn and even rice, with significant advances in global trade share anticipated the FAO report.
However the report also cautions that Brazil urgently needs an overall infrastructure boost to continue expanding its export capacity. Another issue which will have to be addressed is the sustained domestic costs.
In meats Brazil is already the world's second producer and has more than compensated the persistent stagnation of Argentina, and regarding meat exports is ranked first with 1.5 million tons annually.
The FAO report anticipates that an only negative factor for beef export expansion is Russia, as has happened, which has suddenly and drastically cut Brazilian imports, nevertheless exports are estimated to grow in 2011 following three years in which the domestic market was also flat.
For 2011 FAO forecasts a drop in US chicken exports which will help Brazil become the leading exporter of the world with over four million tons equivalent to a third of the global market.
Regarding soy beans the Brazilian crop is estimated to reach 76.9 million tons this year compared to 61 million tons only a couple of years ago. The US crop is 100 million tons but the gap with Brazil is closing. FAO estimates this year's world harvest of soy beans to reach a record 464 million tons.
The corn crop in 2011 will reach a record 60 million tons including 12 million tons exported.
But Brazil also has problems with storage capacity that do not correspond to a world top league farm exports country. For example sugar: in 2011 the harvest is 39 million tons, up 4.6% over 2010, but exports are expected to fall 1.5% because of storage problems.