Paraguayan Senate approves Unasur charter; new Venezuela Mercosur bid
Friday, June 10th 2011 - 02:50 UTC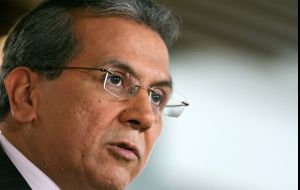 The Paraguayan Senate approved the Unasur, Union of South American Nations charter and treaty which were signed by the Executive in May 2008. The next step is in the Lower House which will then formalize Paraguay's full membership of the group.
The approval in the Senate was not near unanimous and parties voted divided which gives an idea of how sensitive the issue has been for Paraguayan politics, particularly since President Fernando Lugo lost control of the catch-all coalition that took him to office.
Unaur is made up of Argentina, Brazil, Bolivia, Chile, Colombia, Ecuador, Guyana, Peru, Surinam, Uruguay and Venezuela.
Meanwhile in Caracas members of the Venezuelan delegation at the Latin American Parliament, Parlatino, agreed to present a formal statement to the Paraguayan Senate requesting the approval of Venezuela's incorporation to Mercosur as full member.
"The request is most respectful and based on a matter of national interest", said lawmaker Rodrigo Cabezas from Venezuela's ruling party who also thanked the opposition for having abstained.
"We appreciate the resolution did not have the negative vote from the opposition because I'm convinced that all Venezuelans, no matter what political inclination, we agree with the regional integration process", said Cabezas.
The Venezuelan group in Parlatino is made up of seven members from President Chavez coalition and five from the opposition.
Venezuela's full incorporation to Mercosur has been stalled since 2006 at the Paraguayan Senate which so far has refused to vote since many members argue that under President Chavez, Venezuela is not a democracy: civil rights are limited and members of the opposition are persecuted as well as the press.
The legislatives of the other three full members of Mercosur, Argentina, Brazil and Uruguay have all approved the incorporation of Venezuela.
"We are optimistic that sometime this year the event will be positive for Mercosur to widen its horizon and Venezuela becomes a full member", said Cabezas.
Parlatino lawmaker from Venezuela's opposition Delsa Solorzano said that the "accord does not have the necessary political impact that the Chavez regime wanted to impress on the Paraguayan Senate because it represents the current government and not Venezuela".
Solorzano added there is no democratic security and the country is not prepared for Mercosur. "We have been told by our business people that if we join, it would be most negative for the country, since all goods and services would be imported".
Nevertheless the vote was not negative, "because we are not against integration, on the contrary we support integration but before we need democratic agreements, a sustainable democracy and dialogue", concluded lawmaker Solorzano.