Petrobras double-strike: major discovery in US Gulf of Mexico and in Brazil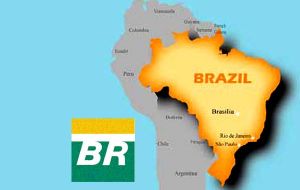 Lucky week for Brazil's Petrobras that announced major oil and gas discoveries in the US Gulf of Mexico and off the coast of Spirito Santo in Brazil.
The discovery in the US Gulf of Mexico includes major oil and gas finds in ultra-deep Hadrian area waters, in the Keathley Canyon concession with recoverable volumes estimated in excess of 700 million barrels of oil equivalent. These are among the biggest discoveries made in the Gulf of Mexico in the last decade.
Petrobas, which shares the discovery with Exxon Mobil and Italy's ENI, called the oil fields "one of the greatest discoveries in the Gulf of Mexico in the last decade".
The Hadrian discoveries are located about 400 kilometres southwest of New Orleans in about 2,100 meters of water. The discovery was made by drilling well KC919#3, in block KC 919, and confirmed over 167 meters of net oil pay. Deeper targets are still to be drilled.
Previous drilling activities had already encountered oil in blocks KC 919 and KC 918 - Hadrian North - and gas in blocks KC 963 and KC 964 - Hadrian South. Preliminary assessments point to the existence of an important cluster of hydrocarbon discoveries in this region said Petrobras.
ExxonMobil is the operator with a 50% working interest in blocks KC 918, KC 919, KC 963, and KC 964; Petrobras, by means of America Inc., holds 50% stakes in block KC 918 and 25% in blocks KC 919, KC 963, and KC 964, while the remaining 25% are held by Eni Petroleum US LLC.
Brazil has spent the past several years investing in deep water drilling technology. In March, Petrobras received permission from the United States to begin deep water oil and natural gas production in the Gulf of Mexico.
Less than a year earlier, on April 20, 2010, a BP oil drilling platform in the Gulf exploded, killing 11 workers and spilling nearly five million barrels of oil in one of the worst environmental disasters in US history.
Meantime in Brazil the discovery of a hydrocarbons accumulation in the Cretaceous reservoirs of Espírito Santo Basin was officially announced.
The discovery resulted from the drilling of well 1-BRSA-926D-ESS (1-ESS-205D), informally know as Brigadeiro, at a water depth of 1,900 meters, located in the BM-ES-23 Concession area, block ES-M-525, 115 km off the coast of the State of Espírito Santo.
The discovery was confirmed through wireline logging and fluid sampling, in the reservoirs located at a depth of approximately 4,200 meters, with vertical porous thickness of approximately 125 meters.
Petrobras is the operator of the consortium for exploration of block BM-ES-23 (65%), which is also shared with Shell Brasil (20%) and Inpex Petróleo Santos Ltda (15%).