Record exports in April helped to lower US trade deficit by 6.7%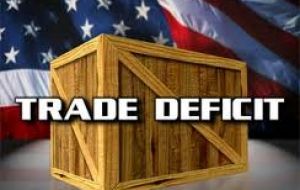 Exports of US goods and services rose to a record 175.6bn in April, helping to shrink its trade deficit. Data from the Commerce Department showed the gap between imports and exports fell by 6.7% to 43.7bn as manufacturers shipped more items such as computers.
A fall in imports also helped narrow the gap, although that reflected supply problems caused by Japan's earthquake. The trade gap so far this year is still 10% higher than last year. Exports rose 1.3%, while imports dipped 0.4% to 219.2bn.
Imports from Japan fell by 25.5%, although these are expected to recover over the months as Japanese factories and infrastructure is rebuilt.
However the politically-sensitive deficit with China widened by almost 20% to 21.6bn.
Analysts expect the trade gap to widen slightly over the year.
The trade figures are a relatively bright spot amid other recent US economic data.
On Wednesday, the Federal Reserve's "beige book" survey reported that growth had appeared to slow in several regions in May, with the manufacturing sector notably sluggish after the disruption caused by Japan's earthquake had interrupted production of a number of components.
Last week, figures showed US employment growth slowed sharply in May, with only 54,000 net new jobs added during the month. Markets had expected a rise of 150,000.
The chairman of the US Federal Reserve, Ben Bernanke, said this week that growth had been slower than expected this year, but that it would pick up in the coming month.