UN chief leaves for a round of four-nation South American visit
Friday, June 10th 2011 - 02:45 UTC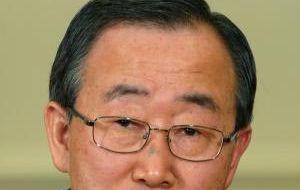 Secretary-General Ban Ki-moon leaves New York on Friday for a week-long trip that will take the United Nations chief to Colombia, Argentina, Uruguay and Brazil, the UN press office reported.
Mr. Ban will meet with the leaders of each of the four South American countries, as well as senior Government officials and civil society representatives.
While in Colombia, he will also witness the signing into law of the landmark Victims' Rights and Land Restitution Bill and take a helicopter flight over flooded areas and meet with those affected.
His visit to Argentina will include a stop at the International Centre for the Promotion of Human Rights and a public address at the Ministry of Foreign Affairs.
Included on the itinerary for Uruguay is a visit to the National School for Peacekeeping Operations, where he will meet troops who have participated in peacekeeping missions.
Mr. Ban's final stop will be Brazil, which is the host for the Fourth UN Conference on Sustainable Development, or Rio+20, which will be held in the Brazilian city of Rio de Janeiro in June 2012.