Palocci resigns to his post as member of Petrobras Administration Council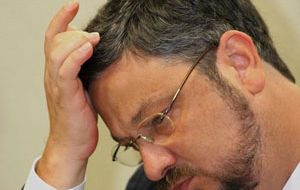 Petrobras announced Friday in an official release that President Dilma Rousseff's administration former chief of staff Antonio Palocci had resigned to his post in the Administration Council of the country's oil and gas state-controlled corporation.
Palocci, considered one of the heavy weights of the Rousseff administration this week stepped down following questionings about his personal finances that had been exposed weeks before by the Sao Paulo press.
"Petrobras announces that Antonio Palocci Filho has resigned to his post of Councillor, (member of the Administration Council) for which he had been elected at the Ordinary General Assembly 28 April 2011", said the release.
At the moment of Palocci's resignation from government and when he intended to take his post as councillor, Petrobras CEO Jose Sergio Gabrielli said that the fact the former chief of staff had left government did not exclude him automatically from the advisory Petrobras council.
"The post is for the person and not for the minister. The minister in this case is a highly qualified person and the Federal Prosecutor's Office has shelved the case with claims against him. Besides he left so as not to harm or expose government", said Gabrielli following the resignation of Palocci.
The opposition had warned it would begin an congressional investigation into the case because it considered 'offensive' that Palocci 'sacked' from government was going to sit in an advisory post of Petrobras.
The former Economy minister, 2003/2006, under former president Lula da Silva allegedly multiplied his personal assets by twenty times in the four years since 2006 when he was member of Congress and in 2010 as head of the presidential campaign of Dilma Rousseff.
Palocci admitted his consultancy firm had indeed billed 'close to 10 million US dollars' in recent years but refused to reveal the names of the corporations involved alleging "confidentiality".
Palocci is considered a first class political articulator, has been the darling boy of Wall Street because of his ultra-orthodox approach to economics and belongs to the inner circle of Lula da Silva's advisors.