EU/Mercosur trade talks are frozen on the "edge of the cliff"
Tuesday, June 14th 2011 - 20:47 UTC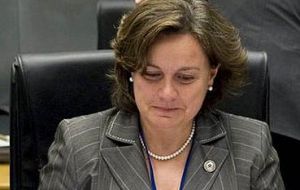 Trade talks between Mercosur and the European Union have been frozen on the "edge of the cliff" because of the European debt crisis, differences over agriculture subsidies and other crucial issues according to sources in Brazil from both sides.
For years, at least 1999, EU and Mercosur have tried to reach an overall cooperation agreement that includes a free trade accord, and discussions resumed in May 2010 after several years of interruption.
But the optimism of thirteen months ago first withered and now has gone sour with negotiators admitting that the goal of an accord by the end of this year is virtually 'impossible' since so many crucial issues remain unsolved or with talks stagnant.
"Advance has decelerated, there's a serious risk of stagnation and back to a freezing condition", said a member from the Brazilian delegation to the discussions.
"Recent events such as the EU debt crisis, to deeper and longer term problems such as EU agriculture subsidies and squabbling inside Mercosur have forced the suspension of discussions for the first time since 2005", added the diplomat.
The current stall forces question about the recent 2008/09 global financial crisis and if its consequences have created a climate too difficult to advance free trade negotiations at international level, points out the Brazilian source.
Among those ongoing problems is Brussels request for greater access for EU manufactured goods into Mercosur, while the South American group insists on market concessions for farm produce which means less EU agriculture subsides and lower tariffs.
However with record unemployment rates in several European countries, EU negotiators underline they face mounting domestic pressure to retain the tariffs and subsidies system for agriculture.
"Sometimes there are protectionist tendencies", admits Ana Paula Zacarías, chief of the EU delegation before the Brazilian government, when asked about the consequences of the Euro crisis on Mercosur/EU trade negotiations.
On Mercosur side, Argentina is reluctant to address any significant review to its current economic policy ahead of October's presidential election and has specifically asked no proposals on tariffs and market access be presented until 'the day after', said EU sources, but unconfirmed in Buenos Aires.
In Brazil an over valued currency which has seen the country flooded by cheap imports has triggered immediate demands from local manufacturers for protectionist measures, which also influences negotiations.
"Any opening with this kind of exchange rate makes things far more difficult. The orders are 'go ahead with negotiations' but 'beware'" said the Brazilian diplomat.
There are further obstacles such as copyright and government procurement, as well as the protection of produce associated to specific geographic regions.
Mercosur has been reluctant to accept the EU proposal for copyright and patent rights which are stricter than TRIPS, the 1994 WTO agreement on intellectual rights.
Brazil in particular is concerned that this might backfire against its capacity to develop generic pharmaceuticals and thus respond to national health emergencies having to violate patents.
"Its' a long difficult and complex process" said ambassador Zacarías. "Both sides expect to continue advancing but are aware that time is not on their side".
In May 2012 France, the main promoter of agriculture subsidies and tariff protections, is holding presidential elections, which makes it even more doubtful the support for an ambitious agreement that exposes French farmers to international competition.
"It's very hard to see a real window of opportunity next year to continue advancing effectively", admits Zacarías.
The EU/Mercosur project is a free trade zone that would include 750 million people with an annual bilateral trade of 125 billion US dollars