One in six Argentine children aged 5-17 forced to work to help their families
Tuesday, June 14th 2011 - 15:12 UTC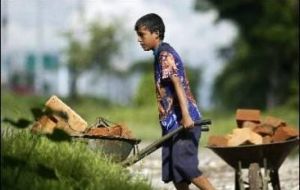 An estimated 17.6% of Argentine children between the age of 5 and 17 living in urban areas are forced to work, according to a report from the Argentine Catholic University, UCA, released last week.

This percentage of Argentine children and adolescents are involved mostly in intensive domestic activities, who work helping their parents by holding a job on their own to make money for the family or are employed outside their homes or in apprentice jobs.

According to the UCA Infancy Social Debt Barometer report based on data from the second half of 2010, almost 8.2% of under-17 is involved in intensive domestic activities such as looking after brothers and sisters, cooking and tending other homes duties.

Another 12.3% does non-home activities such as self-employed to earn money for the family or has a job or is an apprentice mainly in workshops.

The report also points out that the poorer the family or the lower the socio-economic bracket to which they belong, the tendency to be involved in home activities or outside jobs or apprenticeships increases dramatically.

"Children and adolescents who need to work to help families or keep themselves affects education inclusion, increases the probability of school absenteeism and when they attend, their learning capacity is impaired", points out the report.