Argentina about to have its first gay divorce: a lesbian couple
Thursday, June 16th 2011 - 13:20 UTC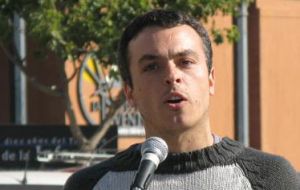 Argentina is about to have its first gay divorce, not quite a year after a groundbreaking law legalized homosexual marriage.
The Argentine Federation of Lesbians, Gays, Bisexuals and Transsexuals confirmed Wednesday that a female couple who married last April in the northeast of the country is in the process of divorce.
Federation president Esteban Paulon says theirs is the first divorce since July 2010, when Argentina became the first Latin American nation to authorize gay marriage everywhere in the country.
Paulon says the break-up is due to an alleged infidelity. He identified the women as 46-year-old Angela and 25-year-old Vanesa, who tied the knot in Rioja province, 1,170 kilometres northwest of Buenos Aires. They had been living together for six years. Angela and Vanesa first met in 2005 when they both had heterosexual partners.
"I loved Vaneas very much, but the couple didn't work out. I wish her the best with her new partner", said Angela in an interview with Perfil. She is also back and living with her former couple Roxana
Argentina in July 2010 became the first Latin American country to admit same sex marriage, following an amendment to the Civil Code which triggered strong reaction from the Catholic Church and conservative groups.