Brazil's default risk lower than the US, claims Minister Mantega
Thursday, June 16th 2011 - 06:10 UTC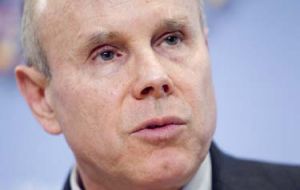 Brazilian Finance Minister Guido Mantega said Wednesday that his country's default risk had become lower than that of the United States.
The credit default swaps, CDS, which measure the cost to insure debt against default, currently stood at 41.2 basis points on the Brazilian bonds, lower than the 49.7 basis points on comparable US ones, the minister told reporters after a meeting with President Dilma Rousseff.
"For the first time in history, Brazil's default risk is lower than the US" said Mantega, adding that the lower risk reflected the solidity of the Brazilian economy and the investors' confidence in the country.
"We are very happy with that, because it shows the soundness of Brazil's economy and the confidence that markets have in us," Mantega said.
Economists, however, cautioned that using one-year CDS as a sovereign risk barometer could mislead investors on the quality of Brazil's credit-worthiness, because those contracts are not as widely traded as other longer-termed CDS.
In addition, they noted that the political deadlock that has prevented the U.S. government from raising its debt ceiling has led some investors to take a more cautious approach towards U.S. instruments.
Five-year CDS, probably the most widely traded CDS contract, still showed a higher risk of a Brazilian debt default, according to Markit prices. The cost of insuring Brazilian government debt trading at 111 basis points, compared with 52 basis points for the comparable U.S. CDS contract.
The United States is facing a political deadlock over the government debt ceiling. Federal Reserve chairman Ben Bernanke urged Congress to raise the debt limit before an Aug. 2 deadline, warning of potentially devastating economic consequences.
Also on Wednesday, the Central Bank of Brazil said that the country's economic activity registered a 3.94% rise in the first four months of 2011 compared with the same period last year.
The index, released monthly, takes into account the activity levels in the industrial, trade, agricultural and tertiary sectors. It is also used by the central bank to decide whether to make any changes in the country's monetary policy.