Under pressure Argentina returns seized cargo from US military plane
Thursday, June 16th 2011 - 01:48 UTC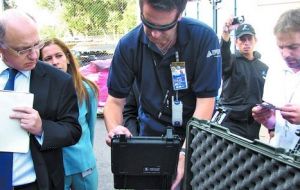 The US embassy in Buenos Aires announced this week that the Argentine government has finally returned the cargo seized from an American military plane that landed at the Ezeiza airport amidst espionage accusations last February.
"We are pleased to inform that the incident involving the seizing of US property by Argentine authorities has been resolved satisfactorily," a press release sent by the US State Department read.
The sensitive military material was "returned" after a series of meetings between Customs and the Foreign Ministry officials.
The Embassy explained that the seized cargo was "related to a joint training activity that had been previously planned and approved" by both governments, which had to be seized due to involuntary administrative failures.
"Argentina and the US share similar Customs rules that both countries respect. After a series between Customs and Foreign Ministry officials, and by complying with all Customs regulations and Argentine laws, the seized material was returned," the statement assured.
The last paragraph in the communiqué reads that the US is committed to "continue working together, in a relationship based on mutual interest and respect, as well as shared values and responsibilities".
The release according to Argentine diplomatic sources was carefully drafted together with the US embassy trying to avoid that the whole incident could be interpreted as a back step or defeat for the administration of President Cristina Fernandez.
On the US side there was also concern because even President Obama was involved at the time and last March requested Argentina to return the cargo seized and described the incident as "serious".
Originally Argentina had said there would be no release of the cargo until after the October election. However Ambassador Vilma Martínez given the situation cancelled the July 4th reception in the Buenos Aires legation and Washington begun to block any possible agreement of Argentina with the Paris Club of country creditors.
According to the same sources the understanding was worked out between Argentine and US officials from Customs and Foreign Affaire. Specifically left out was Foreign Affairs minister Hector 'Twitter' Timerman who was the Argentine official who most exposed himself when seizing the US Air Force C-17 Globemaster III cargo.
The incident had also repeatedly involved the US State Department spokesperson Phillip Crowley and Defence Deputy Secretary for the Hemisphere, Frank Mora.
The embassy justified the cancellation of the July 4th celebration arguing budget cuts and reforms in the US residence in Buenos Aires. Furthermore, according to Argentine diplomatic sources Washington cancelled military links until after the October election and talks on the Visa Waiver program to include Argentina were suspended until further notice.