Bonafini says she "has nothing to hide" and send Schoklenders "to jail forever"
Friday, June 17th 2011 - 05:40 UTC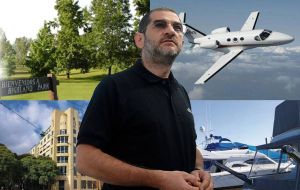 The head of Argentina's Mothers of the Plaza de Mayo organization, Hebe de Bonafini, minimized on Thursday the recent series of judicial raids performed on the organization's headquarters and assured that "she has nothing to hide."
She also thanked Federal Judge Norberto Oyarbide for leading an investigation in order to "punish the bastards," in clear allusion to the Schoklender brothers.
"Let's talk about the raids," she said. "We made ourselves available to Oyarbide, so all our offices were raided. We opened them the door. They didn't touch anything, they didn't rummage through anything. We opened the doors and they would check inside. They took whatever they thought was important to help the investigation and to punish the bastards," she expressed.
As she was leading the traditional Thursday march in the Buenos Aires Plaza de Mayo square, the leader assured that the Mothers "have nothing to hide" and that they have "peace of mind."
She insisted that those responsible for rerouting the foundation's funds were the Schoklender brothers, Sergio and Pablo, and that they should be "sent to jail forever."
"That's what we're fighting for, that's why we're helping the law. So we'd like to thank Judge Oyarbide because he's working hard in order to clear this up," she concluded.
The Mothers of Mayo organization is under investigation on claims millions of dollars granted by the Kirchner administrations, supposedly to build house for the poor, were rerouted and laundered to buy expensive cars such as Ferraris, yachts, private aircraft, several properties, including high priced villas.
Ms Bonafini which turned into an Kirchnerite ultra militant blames Sergio and Pablo Schoklender for the fraudulent management of the millions of US dollars (anywhere from 40 to 300), but other NGO and members of Congress argue "it's hard to believe that Hebe Bonafini was not aware of what was going on. Claims of misappropriations have been around for years".
The extent of the allegations has surprised the administration of Cristina Fernandez de Kirchner, but political analysts and the Buenos Aires press said an indication of what can happen has been given by the fact that the case is in the hands of federal magistrate Norberto Oyarbide, considered a "man of all duties" for the government.