Clarin family yields to growing pressure from Argentine government
Sunday, June 19th 2011 - 23:10 UTC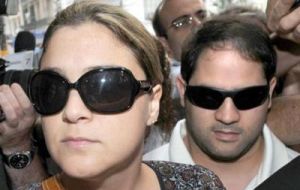 The adopted children of the influential Argentine media conglomerate 'Clarin' have agreed to have their blood drawn for DNA analysis. Blood samples from siblings Marcela and Felipe Noble Herrera will be checked at Argentina's National Genetic Data Bank (BNDG).
The news of their decision was reported by the siblings' lawyer, Horacio Silba, who confirmed that San Isidro Federal Judge, Sandra Arroyo Salgado had recognized the decision.
"They came to the conclusion of taking the blood tests, after contemplating what they have suffered, and the effects the case had on their mother; to be able to put an end to the case. They also agreed to their DNA being compared with those of other families that are already recorded in the Bank," said Silva during a radio interview.
The defender in charge of the adopted children of the Clarín Group's owner explained that, "they will not appeal" against the Judiciary's last decision to order blood tests, but did put forward certain restrictions to the comparisons that will be made with other samples of the BNDG bank.
The administration of President Cristina Fernandez de Kirchner and previously that of her husband the deceased Nestor Kirchner are involved in a long protracted conflict to end with what they claim are media monopolies that exploit that condition, were accomplices of military regimes and distort news to their interest and of the big financial groups.
The adopted siblings of Mrs Ernestina Herrera de Noble are under suspicion, on claims from human rights groups, given their ages, of having been kidnapped as babies by the military regime (1976/1983) from political prisoners tortured and killed in "special" reclusion centres.
So far in all previous attempts, all of them appealed, but enforced in some cases in degrading conditions, their DNA proved no match with specific comparisons. In one opportunity, on judicial orders police officers and forensic staff walked into their home, stripped them naked and extracted blood samples.
Abuelas de Plaza de Mayo (Grandmothers of Plaza de Mayo) president, Estela de Carlotto, considered the decision to be "very good news". "They were going through hell," she furthered during a radio interview.
'Clarin' is Argentina's newspaper with the largest circulation.