Bolivia legalizes 76.000 cars smuggled or stolen from neighbouring countries
Tuesday, June 21st 2011 - 16:49 UTC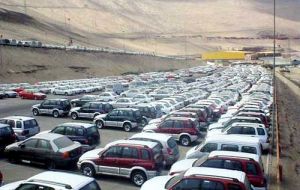 Owners of 70.000 cars that were smuggled into Bolivia, most of them stolen in neighbouring countries have presented their cases in the Customs office taking advantage of an amnesty to legalize their situation decreed by the administration of President Evo Morales.
According to Bolivian Customs in the first ten days of the amnesty, effective until next July first, a total of 70.248 "chuto" cars (as illegal vehicles are called in Bolivia) have been presented for legalization to which another 6.000, with the wrong paperwork, must be added.
The number of illegal cars is thus eight times higher than the 10.000 originally estimated by officials and closer to the 100.000 claimed by the transport unions.
"It is a monumental scandal because it comes to prove that smuggling continues to prosper and soar in Bolivia", said Gary Rodriguez, head of the International Trade Institute.
President Morales justified the legalization of contraband cars arguing that the 'chutos' are purchased by "poor people" who want "to improve their status" and prefer them because they are 'cheaper'.
"We all have a right to have a car" said President Morales.
Bolivian Customs said that it had received from its peer offices in Argentina, Brazil, Chile, Paraguay and Peru, long lists of cars claimed to have been stolen or disappeared.