"With a few drops of its reveres, China can finance Ecuador's development"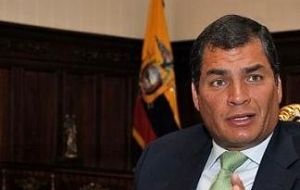 Ecuadorian president Rafael Correa said China has one of the largest liquid international reserves in the world and could with "a few drops" finance the development of his country and the whole of Latin America.
"China has one of the largest liquid reserves in the world and is even financing the huge US deficit", said Correa on his weekly broadcast justifying credit operations with Beijing.
Correa a US educated economist added that the "US deficit can be financed simply because China buys US Treasury bonds".
"China with a drop of its reserves could finance Ecuador's development and with a few more drops, the development of the whole of Latin America" underlined Correa who then asked, "why not? Why not take advantage of such a situation?".
"The Chinese have the money, we have profitable projects, we have hydrocarbons which are the soft spot of China, and they need energy because they have become the world's leading consumer of energy".
The Ecuadorean government is planning to build several hydroelectric plants and a great petrochemical complex on the Pacific besides other infrastructure which it hopes to finance with Chinese funds.
Correa denied that "Ecuador has been isolated from the world financial community" or is heavily indebted with China. "It's false and it comes from the conservative lobbies that follow the IMF and World Bank instruction", claimed Correa.
"I repeat, what's wrong with becoming indebted with China?, a nation with which Ecuador has geopolitical relations", concluded the Ecuadorean leader.