Argentine Patagonia faces major agriculture and tourism disaster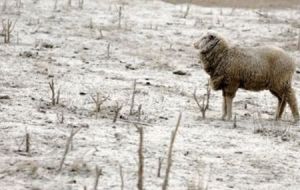 While air passengers in the Southern hemisphere continue exposed to the vicissitudes of the volcanic ash cloud Patagonian farmers have a much serious problem: feeding 1.5 million sheep and livestock when fields are covered with sludge of volcanic debris and snow.
The government of Neuquen in Patagonia has reacted by voting an emergency law declaring disaster area several zones of the province and thus liable to economic aid from a 50 million US dollars relief fund. The central government in Buenos Aires added another 5 million.
Since the Puyehue volcano erupted June 4, thousands of tons of ash and volcanic debris have rained down on pastures in the provinces of Neuquen, Rio Negro and Chubut also threatening resources ahead of the winter season next month.
"Farmers have only two possibilities: shut the animals in pens and feed them there or move them away from the area" said Eduardo Arroyo from the Rural Society of Bariloche. Livestock is not suffering from lack of feed but can also go blind or develop digestive problems because of the ash.
However if putting the animals in pens can be a solution for small farmers, it's not an option for larger ranches which are much common in Patagonia. This means the costly transporting of cattle and sheep to other grazing areas, which not all farmers can afford.
The volcano has also taken its toll on local wildlife, including the deer that are hunted from March and have long been a lucrative draw for tourists.
"We have seen them blinded and stumbling about because of the ash" said a local rancher. "When you come across them, instead of running away, they stay there, their eyes in a complete fog."
If the ash continues to fall for weeks to come, farmers in a region home to some 1.5 million sheep and tens of thousands of cattle fear a major agricultural disaster.
The latest Argentine Meteorological Service reports indicate that for the rest of the week wintry weather conditions and the ever prominent ash cloud will continue to engulf the central and southern part of Neuquén and west and central-south parts of Río Negro, with sleet and rain storms predicted.
For the mountainous region in the Andres pre-cordillera area heavy clouds along with rain, sleet and northerly wind blasts between 20 and 35 kilometres per hour are forecasted.
For the tundra, also under heavy clouds, frost and poor visibility due to the lingering ash cloud and westerly winds with speeds of between 15 and 25 kilometres per hour can be expected.
Minimum temperatures are forecasted to be between -4º and 0º degrees, with highs of between 2º and 7º degrees, says the weather report.