Argentina's trade surplus in May rose 29%; imports soared 39%
Friday, June 24th 2011 - 19:08 UTC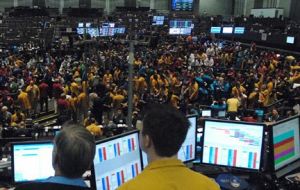 Argentina's trade surplus in May rose 29% from the previous month, thanks to high prices for the country's exports of grains and manufactured goods, the national statistics agency said Thursday.
The agency, Indec, said that Argentina ran a trade surplus of 1.68 billion US dollars last month, down from a revised 1.93bn in May 2010. Argentina posted a trade surplus of 4.77bn during the January-May period, down from 6.01bn a year earlier.
Indec said exports increased 24% on the year to a record 8.04bn in May, thanks largely to higher prices. The gain in exports was led by grains, edible oils, automobiles, chemicals and metals.
But imports surged 39% to 6.36 billion, owing to a big increase in volumes.
Mercosur was the source of 33% of Argentina's imports and destination of 22% of exports.
In May, Argentina ran a trade deficit of 491 million USD with its largest trading partner, Brazil. Indeed, the trade deficit with Brazil hit 1.53 billion during the first five months of the year.
Argentina's trade surplus is set to shrink this year as the growth in imports exceeds that of exports. The central bank's latest forecast is a surplus of about 9 billion USD.
Maintaining a hefty trade surplus is one of the pillars of President Cristina Kirchner's economic program as US dollar inflows from export sales allow the central bank to build its international reserves, a portion of which the government uses to service its debts.
The surplus also vindicates the government's industrialization policy by keeping imports out through tariffs and informal barriers, while at the same time promoting exports of manufactured goods.