Venezuela's Chavez health and prolonged recovery turns into political controversy
Friday, June 24th 2011 - 19:59 UTC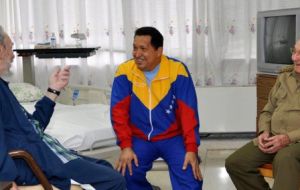 Two weeks after surgery in Cuba, Venezuela's President Hugo Chavez is "stronger than ever" but will not rush home until he is ready, announced Defence minister General Carlos Mata Figueroa.
"I call him every day to give him news, he is making great improvement" the top military official told state TV in the latest comment from a Chavez ally aiming to quash speculation the prolonged absence means he may be seriously sick.
"He's getting better ... stronger than ever," the minister added.
At the end of a regional tour on June 10, Chavez underwent an operation in Havana for a swelling in his pelvis and has been out of public sight since, except for one set of photos.
The government originally said he would return "in a few days", but as time has gone by and Chavez has remained in Cuba, rumours have swirled in Venezuela that the 56-year-old former soldier may have something worse like cancer.
His absence has highlighted the populist leader's total dominance of Venezuelan politics – not to mention the air-waves – and the lack of an obvious successor.
"His senior ministers look dull and slightly hapless in his absence, underling his unique political charisma," said LatinNews, a think tank based in Britain.
With opposition politicians denouncing the secrecy surrounding Chavez's operation as a throwback to Cold War-era authoritarian governments, allies have come out in the last 48 hours to counter the negative publicity.