Canada interested in closer links with Mercosur announces 'exploratory talks'
Saturday, June 25th 2011 - 08:00 UTC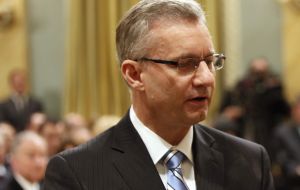 Canada and Mercosur agreed on Friday to hold exploratory talks to strengthen their relationship, Canadian Trade Minister Ed Fast said on Friday. Fast is currently in Asunción to promote bilateral trade and investments, and Paraguay currently holds the Mercosur chair.
Fast did not go as far as saying the end goal would be a free trade zone, which is what Mercosur and the European Union have been trying -- unsuccessfully so far -- to achieve.
"I am hopeful that these exploratory discussions will help us enhance our economic ties with Mercosur, the largest common market in South America" Fast said in a statement after the Canadian delegation met with President Fernando Lugo and other top officials.
Talks with the EU have stumbled over EU farm subsidies and disputes over tariff barriers and market access for manufactured products. Besides, Argentina is holding presidential elections next October and France which heads the EU farmers' lobby in 2012.
"Although we are in the early stages of these discussions, we know there are potential commercial opportunities in this market that are worthy of further dialogue," Fast said.
The statement said Mercosur offered opportunities for Canadian companies in aerospace, life sciences, infrastructure, information and communications technology, clean technology, mining, and oil and gas.
Bilateral trade between Canada and Mercosur totalled 8 billion US dollars in 2010.
Mercosur has trade agreements with Israel and Egypt. However the group is negotiating tariff agreements with India, South Africa, South Korea, among other countries.
Fast on Friday together with his Paraguayan counterpart Francisco Rivas Alamada opened the seminar "How to export to Canada" as part of a policy of establishing closer relations between the two countries.
Canada since 2007 is considered the first among G7 members and third best worldwide for making business supported on excellent infrastructure, market conditions and solid pro-business atmosphere. According to the World Bank Canada is the first country of OCDE and second best worldwide regarding paper work and time to establish business.
Canada belongs to Nafta (free trade area with Mexico and the US) and since 2002 the basic tariff is 1.1%. The few items under restrictions or quota systems include coarse steel, poultry, bovine cattle, dairy produce and some cereals.