Chavez health mystery increases as major summit and celebrations are suspended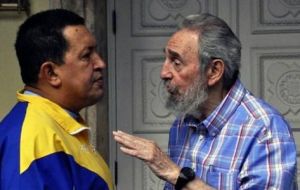 Venezuela has suspended a regional summit scheduled for 5 July, --which also coincides with the 200th anniversary of the country's independence--, amid continuing speculation over the state of health of President Hugo Chavez.
Invoking President Chavez "recuperation process and strict medical treatment", the Venezuelan government announced Wednesday it will postpone the Third Summit of Latin America and the Caribbean on Integration and Development scheduled to take place July 5-6 on Margarita Island, Venezuela.
At the summit it was planned to launch the Community of Latin American and Caribbean States, CELAC, with the purpose of "consolidating the union and independence of our peoples".
CELAC was set up in February as an alternative to the Organization of American States (OAS), a regional Americas bloc which unlike CELAC includes both the United States and Canada.
The news was first circulated in Asuncion, Paraguay at the Mercosur summit.
Brazilian Foreign Minister Antonio Patriota said he had been informed by his Venezuelan counterpart Nicolas Maduro that Chavez's condition was the reason for the summit delay. "It was a medical recommendation," Patriota told reporters at the summit in Asuncion.
The decision was made "after discussions with the governments of the countries of Latin America and the Caribbean" said the official Venezuelan Foreign Affairs ministry statement.
President Chavez left Venezuela on 8 June for Cuba, where two days later he had emrgency surgery, apparently for a 'painful' pelvic abscess. On Tuesday, Cuban state TV aired images of President Chavez talking animatedly to former Cuban leader Fidel Castro.
He had been widely expected to be back in time to host the CELAC summit which also coincides with Venezuela's bicentennial celebrations.
Analysts say the suspension of the CELAC meeting will be a blow to President Chavez.
Venezuelan officials had earlier said that the extended video footage released on Wednesday and showing the president apparently looking well proved his recovery was continuing.
Vice-President Elias Jaua said President Chavez had been in close contact with officials in an effort to "continue driving the national plans forward".
Mr Chavez's unexpectedly long absence from Venezuela has prompted debate on whether he should delegate executive power to the vice-president.
Venezuelan officials have said he underwent emergency surgery on 10 June for a pelvic abscess, but there has been speculation in the Venezuelan and foreign press that the president's condition could be more serious.
A poll released Wednesday by El Universal newspaper found that 59% of Venezuelans rejected the idea of the president directing the Venezuelan government from Cuba.