Falklands/Malvinas: Mercosur supports Argentina; rejects UK Defence minister words
Thursday, June 30th 2011 - 06:40 UTC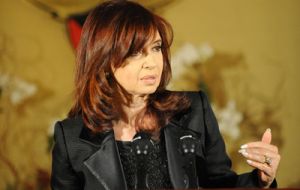 The Mercosur presidential summit unanimously supported Argentina's legitimate sovereignty rights over the Falklands/Malvinas Islands and strongly rejected "regrettable statements" from British Defence Secretary Liam Fox regarding the use of force.
Mercosur full members and associates met on Wednesday in Asuncion, Paraguay for the first of two annual presidential summits when the rotating chair of the group was handed by Paraguay to Uruguay for the next six months.
Argentina on the occasion was represented by Foreign Affairs minister Hector Timerman since President Cristina Fernandez was absent on medical recommendations.
"Mercosur full members and associates energetically reject the regrettable statements from UK Minister of Defence regarding the deployment of combat aircraft and naval power in the Malvinas Islands zone" says the statement.
With statements of this nature "the UK continues to ignore the reiterated calls from the international community to sit for negotiations with Argentina to solve the sovereignty dispute".
Minister Timerman thanked all governments present "their permanent support for the legitimate, unrenounceable and imprescriptible rights of Argentina in the sovereignty dispute concerning the Malvinas Islands question".
Mercosur members and associates also reiterated support "for the legitimate and imprescriptible rights of the Argentine Republic over the Malvinas, South Georgia and South Sandwich Islands and their surrounding maritime spaces"
"Argentina never failed to show its willingness to negotiate, to reach a peaceful solution. Unfortunately it has been confronted with an unjustified and systematic response from the Unite Kingdom" Timerman said.
The Argentine Foreign Minister also accused the United Kingdom of holding "sole responsibility over the perpetuation of this anachronistic colonial situation".
Timerman said that the countries of the region, "the same way that united they have defended democracy", united they will also "defend sovereignty", adding that in spite of the fact the illegal occupation of Argentine territory by Britain has been uninterruptedly protested since 1833, Argentina never failed to show its willingness to negotiate, to reach a peaceful solution".
Last Monday Defence minister Fox said the UK remains committed to retaining sovereignty over the Falkland Islands in the face of renewed Argentine pressure over the issue, and has the political will and military means to defend the Islands.
He added, addressing the Reform think-tank that Argentine politicians "can huff and puff but it will not change our resolve politically to retain the independence and the sovereignty of the Falkland Islands nor to come to their defence and to maintain deterrence as best we can".
And he emphasized that "we have Typhoons already stationed there. We have a very clear message that we have both the naval power if necessary, and certainly any intent to ensure that the Falkland Islands are kept free and their people enjoy the liberation we fought so hard for 30 years ago".