Mercosur plans coordinate tariffs mechanism to contain "unexpected surge of imports"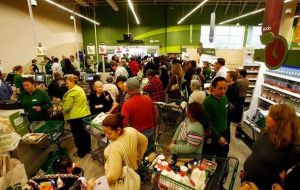 Brazil's proposal to Mercosur members of a coordinated tariffs' package with the purpose of containing unexpected imports surges, particularly of cheap products, from Europe, Asia and the United States is to be implemented in the second half of the year.
The proposal was set out by President Dilma Rousseff at this week's Mercosur summit in Paraguay, where she argued that given the very good economic performance of the block, outside trade partners are trying to deliver in the region those products which they can't sell in rich countries.
"We need to advance in the development of common mechanisms that help to rebalance the situation, because given the exceptional growth in the region we have identified some outer region trade partners trying to sell us what they can't trade in rich countries", said Dilma Rousseff who was participating in her first summit as president.
She asked Mercosur Trade Commission to elaborate a mechanism of agreed tariffs which should be ready before next December, but however gave no further details of the initiative.
"The idea is to give support to certain products given the invasion of cheap imports that are either subsidized or generate distortions in the region" said a member of the Brazilian delegation who was reluctant to give further details.
"The measures would be temporary and would only be applied in those Mercosur countries that feel they need to be implemented. But we must first agree on a common tariff to avoid asymmetries" added the Brazilian delegate.
The proposal is to be considered by each of Mercosur full members in the framework of the Trade Commission and should be discussed in the coming weeks.
According to press reports from Asuncion, Argentina's reaction was 'positive' and a member of that delegation admitted the initiative was discussed by the Economy and Foreign Affairs ministers.
"As long as it is a tariffs plan agreed with the purpose of protecting the region, it's welcome", said an Argentina delegate.