Renault plans to increase car production in Argentina by 60%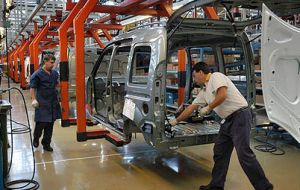 French auto maker Renault has plans to invest 400 million Pesos (100 million US dollars) to produce a new model geared towards the Mercosur market, Argentina's industry minister Debora Giorgi announced this week.
The company plans to expand its factory in Argentina's Cordoba province to produce the new line of economy vehicles in 2012, the ministry said in a statement. After the expansion, Renault's production will reach 148,000 vehicles per year, up 60% from 2010, according to the official release.
Argentina's car sector is booming amid strong demand domestically and from neighboring Brazil. Manufacturers are expected to crank out a record 850,000 vehicles this year, up from the previous record of 730,000 in 2010, according to the government.
During the first five months of the year, 311,500 vehicles were made, up 29% on the year, with 195,500 of those exported, the ministry said. However, many vehicles and parts are imported from neighboring Brazil, and the government has pushed hard to spur more domestic manufacturing.
The industry ministry has convinced eleven car importers to balance all imports by a corresponding amount of exports, which will reverse a vehicle sector trade deficit of almost 3 billion USD in 2010 and push that to a surplus of 1.3 billion USD in 2012, the ministry said.
Although there have been clashes with Brazil over bilateral trade, car makers are pushing forward with expansion plans amid booming demand in the region.
Earlier this month General Motors announced plans to invest 146 million USD to expand its vehicle production capacity by 25%.