Chinese president warns corruption is eroding the Communist party grip
Saturday, July 2nd 2011 - 05:56 UTC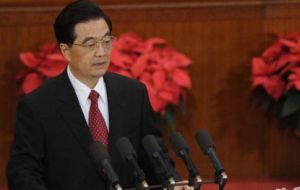 Chinese President Hu Jintao has issued a mea culpa for rampant corruption in the ruling Communist Party, warning members about alienating the public as the organisation celebrates its 90th anniversary.
In a speech on Friday marking the anniversary of the party's founding in 1921, Mr Hu celebrated the achievements of communist rule but stressed the continuing challenge of incorporating economic openness.
"The entire party must clearly see that, with the deep changes in the world, national and party situations, we face many new problems and challenges to improve the party's leadership and rule, and to strengthen the ability to resist corruption and risks" he said in Beijing's Great Hall of the People.
He focused on graft as crucial to public support and the survival of the party.
"The fight against corruption remains serious and the task is still arduous," Mr Hu said. "Corruption will cost the party the support and trust of the people. It is more urgent than ever for the party to impose discipline on its members.
"The party's development over the past 90 years has told us that firmly punishing and effectively preventing corruption is key to the winning or losing of people's support and the life or death of the party."
China's 1.4 billion citizens have been swamped by a propaganda blitz in the lead-up to the anniversary, which culminated with choreographed festivities in Beijing's Tiananmen Square.
National programs of singing revolutionary songs have been a key feature of celebrations along with a poorly reviewed movie blockbuster, Beginning of the Great Revival.
China launched a key high-speed rail link between Beijing and Shanghai this week, and opened the world's longest cross-sea bridge just before the fete.
But the campaign is widely viewed as a facade to conceal the insecurities of a party that has thrown overboard the ideology of its name and is struggling to deal with complex problems without the flexibility that democracy affords. These include a widening wealth gap, environmental degradation, demands for autonomy from millions-strong ethnic minorities, and regular reports of corrupt and abusive officials.
The CCP was established in July 1921 in Shanghai by a group of intellectuals after the overthrow of the Qing dynasty. It seized power in 1949 after a civil war against Chiang Kai-shek's Nationalists, who fled to Taiwan and set a up a rival state.
Mao Zedong then led China through a further 30 years of famine and Cultural Revolution before the country set on its path of reform and opening up after his death in 1976, leading to an economic boom that has created the world's second-largest economy and an emerging superpower.