Venezuela' top general says Chavez is 'recovering satisfactorily' and 'soon' will be back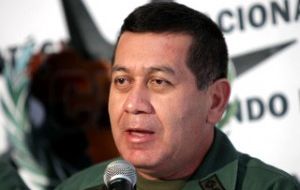 Venezuela's President Hugo Chavez is recovering "satisfactorily" from surgery to remove a cancerous tumour and will be home "soon," the head of the country's military said on Friday.
General Henry Rangel Silva in an interview with state TV that Chavez continued to run Venezuela's government via instructions from Cuba, where he is being treated.
Venezuela's army chief said there is no threat to the nation's constitutional order as President Hugo Chavez's revelation of cancer surgery shakes the political system he has dominated since 1999.
"We have seen our Comandante thinner than usual but still standing. The truth is he is getting better, he's fine," Rangel told state television, adding that Chavez is still running the government. "The country is calm."
The usually vivacious Chavez, 56, confirmed in a stern speech on Thursday that he had surgery in Cuba to remove a cancerous tumour and was receiving chemotherapy treatment. He said he needed time to recover before returning to Venezuela to run the Bolivarian-Socialist revolution.
Supporters vowed they will continue along his path, which has included nationalization of vast parts of the economy, a broad diplomatic challenge to Washington's dominance of the region and a steady takeover of an oil industry that is a key supplier to the United States.
"We will live and we will conquer. Until my return!" Chavez ended Thursday night emotion-charged address from Havana.
In Caracas supporters saluted him with fireworks. "He's alive! He's alive!" one group shouted in the poor Catia area after the speech. Opposition leaders, seeking to rally around a unity candidate to be picked in February for the 2012 presidential vote, may take the news as a sign Chavez is weakened and less likely to win next year's vote after sweeping repeated elections since 1998.
"For the Republic, the best thing that can happen is for the president to recover and to take over full governance, so that the natural political process can evolve, which is to carry out elections next year," said Teodoro Petkoff, who runs the opposition newspaper Tal Cual.
The opposition was trying hard to avoid appearing gleeful at Chavez's ill health, though some detractors posted vitriolic messages on Twitter and other sites.
Known for eight-hour speeches and frequent camera appearances, Chavez left Venezuela in near silence and its government functioning at half-steam for almost three weeks after a June 10 operation to remove a pelvic abscess.
According to Venezuelan sources the 15 minute speech was jointly prepared between Chavez, Cuban leader Fidel Castro and one of Chavez' daughters who is next to him in Havana. Adrian Chavez, one of the president's brothers and governor of their home state was also consulted.