"You can vote for Cristina with your pocket, heart or mind" says Boudou
Saturday, July 2nd 2011 - 06:06 UTC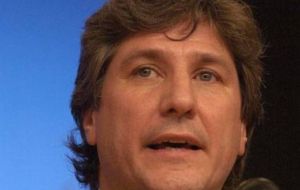 "You can vote for Cristina (Kirchner) with your pocket, your heart or with your mind" because the Argentine economy has advanced in all fields, said the country's Economy minister and vice President candidate for next October election, Amado Boudou.
Interviewed in Buenos Aires, Boudou said that in the last few years Argentina has performed very well with "social inclusion, sustained economic growth, human rights, same sex marriage, the media bill, universal child allowance, you name it…"
Looking back, the Economy minister said that President Cristina Kirchner's proposals for the farming sector "have proven to be correct" because the agro-industrial sector is doing very well. He also praised the achievements of the Argentine economy in the last eight years, "compared to what is happening in Greece, Spain and United States"

"We have Argentina back on the right tracks. Many things are being said but if you compare the country with what it was back in 2003, all comments seem ridiculous", he emphasized.
Boudou assured that all of the macroeconomic variables of Argentina are "very good." He indicated that the double surplus (budget and trade) and the accumulation of reserves "should maintain themselves with time."
"When one looks at the macroeconomic variables in their totality, Argentina is doing very well and it's because of this that it continues to grow, for the eighth year in a row," he sustained. "This will allow us to keep increasing the investment, generating employment and guiding this new Argentina," he continued.
"This Argentina will also count with a great agrarian production, because the farming sector is doing well, it's been industrialized, which is the strong fact in this stage," the minister highlighted.
Boudou reminded that "the Renault reported to the President on Thursday a 400 million pesos investment for the manufacture of a new car in Argentina and that by September 2012 it will be on the streets, as Fiat, Volkswagen and General Motors have already done.
The candidate to vice-president for the Victory Front bloc showed his "pride" to stand alongside President Cristina Fernández in run for re-election.
"I feel great joy and a great pride because I'm running in the presidential ticket with a woman of great capacity, talent, character and strength, that enabled the consolidation of a process began by Nestor Kirchner in 2003 and that today we are all enjoying".
"Whether you are thinking with your pocket, your head or your mind you can vote for Cristina hands down", concluded vice-president candidate Boudou.