Narrowest house in New York, (2.4 meters) on sale for 4.3 million USD
Monday, July 4th 2011 - 05:08 UTC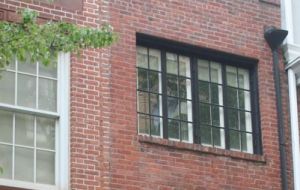 New York City's narrowest house, 75 ½ Bedford Street, Manhattan, is back on the market after selling in early 2010 for 2.175 million US dollars at the dramatically increased price of 4.3 million.
The most recent buyer gave the 2.4 meters-wide by 9.7 meters house a thorough renovation, with reclaimed oak flooring, custom cabinetry, and built-in shelving and storage space.
But there's one feature the owner didn't need to change: the home's secret garden, a backyard it shares with two neighboring townhouses. The garden also has a side entrance so 75 1/2 Bedford's residents can avoid the camera-toting tourists out front.
Built in the mid 1800, Dutch style, the flat has three dorms and two bath rooms. The second and third floors are 2.4 meters wide while the ground floor and the basement, 2.1 meters. The garden is 2.7 meters wide and 13 meters long.
Each townhouse owner is responsible for caring for his/her own portion of the garden, but any big changes would have to be approved by all. So even though one owner has drawn up plans to partition the shared space, it seems unlikely to happen.
That means whoever picks up 75 1/2 Bedford next will be able to look out across the whole garden from the tub, a setup that was one of the favorite features of the renovation. Each floor also has a balcony that lifts up to allow for a fire escape—another good idea, considering that burn marks from past fires are still visible on the old ceiling beams.
As for the interior, the built-in storage and furniture—including a kitchen bench and a Murphy bed—make the place seem surprisingly livable, for a buyer who doesn't mind tourists outside, sharp corners on the stairs, or paying 4.3 million for both of the above.