Ireland anticipates rejection of EU/Mercosur trade accord on beef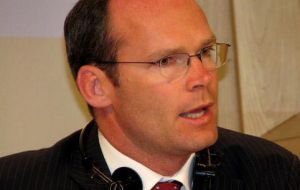 The Irish government is expecting a report from the European Commission setting out the economic impact on Eire of a potential trade agreement between the EU and Mercosur.
The commission has already provided Minister of Agriculture Simon Coveney with a preliminary report on the impact of such an agreement.
It is believed to indicate that the Irish beef production sector could be seriously undermined if European leaders agree a trade deal with the world's major beef exporting nations.
Ireland is contrary to an understanding on beef since the country exports 80% of its production, "which is different to other EC members who fear for their domestic markets threatened by cheap Mercosur imports".
The EC said it had sent the preliminary internal report to the Irish government as part of bilateral trade talks with Mercosur.
A spokesman for the minister said he could not discuss the contents of the preliminary report, but that Coveney was awaiting the arrival of the full report.
Elements of the preliminary report relating to the agro-sector were leaked earlier this year and suggested that there would be widespread job losses here arising from the introduction of a high volume of cheaper Mercosur beef into the EU market.
Several other EU nations, led by Germany and the UK favour opening up trade links with Mercosur to facilitate the sale of European goods.
The Irish government is expected to have until September to consider the issues raised in the report and to make its case on its opposition to Mercosur beef imports challenging the position of Irish producers.
The full report is expected to deal with significant areas of concern which Coveney and other ministers are likely to raise in their opposition to the proposal, including the carbon footprint element of such a deal and the impact on other agro related trade sectors, such as the food industry.
Coveney has already signalled that the Irish position on such a deal would be that it ''made no sense for many reasons'' to allow a very large quota of beef into the EU to displace beef produced in countries such as Ireland.
Coveney earlier this year informed Parliament that Ireland produced beef ''with the lowest carbon footprint in the world because we have a grass-based system'', in contrast to the system used by South American countries, which was highly intensive.
"I cannot see any sense in the EU simply replacing Irish meat," Coveney said.' 'We export 80% of everything we produce. Most other beef industries feel threatened by Mercosur for domestic reasons, but we export to other European countries".