Toyota Mercosur temporarily closing plants due to lack of parts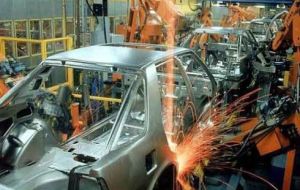 Toyota, the world's biggest automaker said Monday it will temporarily halt work at factories in Brazil and Argentina due to the lack of parts from Japan after the massive March quake and tsunami.
"Toyota Mercosur is temporarily closing its production plants in Indaiatuba (Brazil) and Zarate (Argentina) due to a lack of parts supplied by Japan after the earthquake and tsunami that hit the country on March 11, 2011," read a statement from the division's website datelined Sao Paulo.
The Brazilian plant, which manufactures Toyota Corolla sedans, will stop production for a day on Friday. The Zarate plant, where workers make Hilux trucks and SW4 sports utility vehicles, will grow silent July 20-22 and for a half day on July 15.
The work stoppages "will not affect the level of employment at the factories," Toyota assured, saying construction of a new plant in Brazil and plans to expand production capacity at the Zarate factory were still on track.
Toyota, which had temporarily stopped production in Brazil and Argentina after the quake, said that operations in both countries "will return to their normal levels" after July.
Production, both in Japan and globally, fell sharply for Toyota in the wake of the disasters that hit its home country due to damage to parts manufacturers with factories in Northeast Asia, the region worst hit by the Pacific earthquake and tsunami.