Uruguay and Brazil move closer to a partnership in wind power projects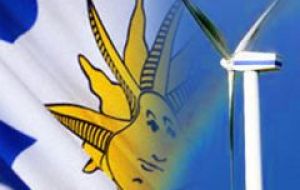 Uruguay's state owned power company UTE moved closer to linking with Brazil's Eletrobras for wind projects after its board gave the go-ahead to explore a partnership.
"Recharge" an alternative energy publication that last year revealed UTE had begun preliminary talks with the Brazilian utility over jointly investing in wind farms in the region.
UTE's board has now sanctioned the partnership in principle and authorised an analysis of a tie-up, which could see projects developed with Electrobras in Uruguay and elsewhere.
Eletrobras is aggressively seeking to establish itself internationally, with a goal of securing 10% of revenues from outside Brazil by 2020.
UTE has also announced plans for a 100MW facility as part of its goal of building up to 300MW of wind capacity by 2015. No further details of the project were given.
Alongside its own initiatives, UTE has run tenders for 150MW worth of wind power and is planning a second round for the same capacity.
It aims to bring the wind capacity in operation in Uruguay to at least 500MW by 2015.