When Falklands and the World Cup 1982 nerve-wracked the Foreign Office
Tuesday, July 5th 2011 - 19:13 UTC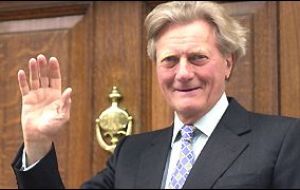 According to recently released document the government of Prime Minister Margaret Thatcher wanted Scotland to crash out of the 1982 World Cup in Spain in an attempt to avoid a diplomatic headache over the Falklands conflict.
Prime Minister Thatcher and fellow senior Tories were concerned about the prospect of Scotland getting to the latter stages of the Cup that took off on 13 June and ended 11 July 1982, according to reports in the Scottish press.
The Argentine military forces signed rendition to the British Task Force on 14 June 1982, which in the Falklands is celebrated as Liberation Day.
Their fears were fuelled by the realization that if Jock Stein's squad qualified from the group stages, they could have faced Argentina in a second round showdown.
Officials would then have faced the agonising decision of whether to withdraw from the competition - and face the wrath of the Tartan Army, a plan backed by Scottish sports minister Alex Fletcher.
The events were disclosed in a letter sent by the Environment Department, headed by Michael Heseltine, to the Scottish and Foreign Offices on April 7 - five days after Argentina invaded the Falkland Islands.
The confidential document said: "Particularly sensitive are the World Cup matches that will be held in Spain this summer. If Scotland and Argentina win through to the second phase, they will then meet in Barcelona".
"It is inevitable that the Scottish Football Association will be asking for advice."
The Foreign Office warned they could not rule out a ban on a Scotland v Argentina tie.
But Jock Stein's squad went out on goal ¬difference on June 22, eight days after a ceasefire was declared.
England, Scotland and Ulster played in the first round of 24 teams in Spain. England and Ulster made it to the second round and Scotland was out only managing to defeat New Zealand and draw with the Soviet Union. England and Ulster, as well as Argentina and Brazil were out in the second round as well as host Spain.
The 1982 Cup went to Italy defeating Germany 3-1 while Poland and France took third and fourth places.