Poland warns trade agreements must abide by EU sanitary and food security standards
Wednesday, July 6th 2011 - 06:23 UTC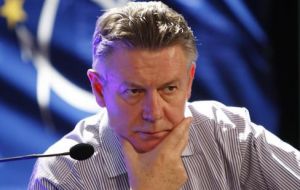 Poland which currently holds the rotating chair of the European Union presidency warned that any trade agreements with third parties must strictly abide by the EU sanitary and food security standards.
Polish Agriculture minister Marek Sawicki said if that is not the case, "we should not open our markets" and pointed out that "European agriculture must not be sacrificed" in exchange for easier access to other markets for EU services and industry.
In June, Hungary handed the EU rotating presidency for the next six months to Poland starting July first.
Several EU countries among which France, Ireland and Belgium fear that Mercosur farm imports could have a negative impact on European agriculture, farmers' income and rural employment and have requested no hasty concessions be agreed before consultations.
Minister Sawicki statements coincided with the beginning of the sixth round of EU/Mercosur trade negotiations this week in Brussels.
However EU Trade Commissioner Karl De Gutcht who last Friday met with Tabare Aguerre, minister of Agriculture from Uruguay that currently holds the Mercosur chair, reiterated the EU commitment to reach a trade agreement as soon as possible, "respecting the necessary timetables for each side to ensure a balanced and ambitious solution".
Minister Aguerre recalled that for Mercosur "these trade negotiations are a priority" and expects a quick and balanced conclusion.
In the meantime the EC is elaborating a report on the impact for European agriculture of a trade agreement with Mercosur. A preliminary copy has already been distributed among officials but no reply will be available until the final report is studied and assessed by all EU member countries.
Only then, "will the EU be in a position to present a formal proposal on tariffs, market access and other relevant issues to the Mercosur negotiators".
The estimated date for such an exchange of proposals is late 2011, or early 2012.