"The News of the World" last mobile phone hacking message: "Thank You & Goodbye"
Sunday, July 10th 2011 - 09:00 UTC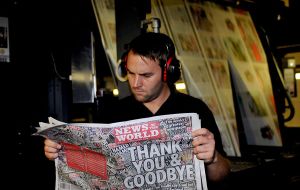 The final edition of the paper engulfed in a phone hacking scandal was published today as Rupert Murdoch headed to London to try to save the bigger prize of his takeover of the British broadcaster BSkyB.
Best known for its lurid headlines exposing the misdemeanours of the rich, royal and famous, the last News of the World said simply "Thank You & Goodbye" over a montage of some of its most celebrated splashes over the past 168 years.
"This is not where we wanted to be and it's not where we deserve to be, but as a final tribute to 7.5 million readers, this is for you and for the staff, thank you," editor Colin Myler told the media scrum outside its east London offices.
The scandal has raised questions about relations between politicians, including Cameron - who hired a former editor of the paper as his spin doctor - and media barons such as News Corp. chairman and chief executive Murdoch, 80.
It has also brought to light accusations that journalists working for Murdoch and others illegally paid police for information.
Cameron's opponents have scented an opportunity in their efforts to block Murdoch's $14-billion bid for the 61 per cent of the profitable pay-TV operator BSkyB that News Corp., the world's largest news conglomerate, does not already own.
Previously, those looking at whether Murdoch should get the go-ahead have focused on whether it would give him too much power over Britain's media. News Corp. also owns two dailies and one other Sunday paper.
But allegations that senior editors were involved in illegally accessing thousands of voicemail messages and paying police for information to get scoops have now prompted the regulator Ofcom to say it will consider whether News Corp directors are "fit and proper" persons to run BSkyB.
Accusations that the eavesdropping stretched to missing children, relatives of those killed in the 2005 attacks on London's transport network and families of soldiers killed in action have triggered a huge public outcry.
The government has received more than 135,000 public complaints against the deal. (Reuters)