Mayor Macri wins in Buenos Aires; confirms he's the main opponent to the Kirchner plans
Monday, July 11th 2011 - 07:34 UTC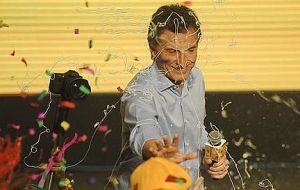 Buenos Aires City Mayor Mauricio Macri took a 20-point lead on Kirchnerite mayoral candidate Daniel Filmus on Sunday's election but none of the candidates managed to obtain more than 50% of the votes.
Just like in 2007, both candidates will once again run against each other in a second round next July 31.
With 100% of the votes recounted, incumbent conservative Mayor Mauricio Macri reached a 47.1% of the votes, taking a 20-point lead on Daniel Filmus, (hand picked by President Cristina Fernandez de Kirchner) who obtained a 27.8% of the votes.
In the third place was Proyecto Sur's candidate Fernando "Pino" Solanas with a 12.97% of the vote. The showings of the rest of the candidates were below 2.5% of votes cast.
The results confirm Mayor Macri remains the main threat to the Kirchner 'dynasty' plans in 2015 in spite of having stepped down from competing for the presidency this year, preferring to concentrate in Argentina's capital.
Mayor Macri came on stage minutes after 10 pm and thanked the population of Buenos Aires for "trusting him once more." He also spoke to those who didn't vote for him and assured that "he would not let their differences come between them".
Macri was joined by running mate María Eugenia Vidal and City Cabinet Chief Horacio Rodríguez Larreta.
"I make a call to unite the country, because whatever unites us is far stronger than whatever separates us. I would like to offer my open hand to all political leaders in the country," Macri said.
"This city is not up for sale, and we won this election because we didn't kneel before anyone, but because we discussed our differences with dignity," he said.
"It's time to stop fighting the ghosts of the past and look toward the future. Just like you, we all believe that this is a great opportunity for us," he said, surrounded by his cabinet members. "You have no idea how happy I am that you decided to trust me again. I believe we should all stay together" he emphasized.
Primary results indicate that over 75% of registered voters cast their ballot and that Mayor Macri won in all Buenos Aires city districts. If current results help to forecast what might happen at the end of July, in 2007 Macri managed a lesser vote support in the first round (45%) but in the run-off achieved an undisputed and comfortable 61%.
Despite initial delays early Sunday, due to the absence of several ballot station officials, the rest of the day went by without any major inconveniences. There were several complaints of a lack of ballots in certain polling stations, but officials assured that all problems were solved immediately.
The election's mayoral candidates cast their ballots early in the morning and before noon. Over two million people were cleared to vote in order to pick their mayor, 30 lawmakers and 105 communal head.
Kirchnerite Victory Front mayoral candidate Daniel Filmus from his headquarters said he "will take part of the second round to defend our principles," after official results showed he came in second place after Mayor Mauricio Macri in the City's mayoral elections.
"We will go into a second round to defend our principles and our way of thinking. We are sure we will make it. We will do it with courage, the same courage we had when we took power in 2003, when no one believed that Argentina could once again be a part of the world and get out of the darkness.
"We will have a lot to celebrate and to be thankful for. We know that tomorrow we will keep on working with the aim of making Buenos Aires a more equal city. We will join forces to those who didn't vote for us today, but who share our viewpoints for the City," he added.
Economy Minister and vice-presidential candidate Amado Boudou stressed that the Filmus-Tomada ticket had "increased the amount of votes in favour of the Victory Front" in the City, a boost that he assures will help President Cristina Fernández in the upcoming presidential elections in October.
He also highlighted the ample difference in votes between parties who are also in the presidential race and the Victory Front's.
"Back in 2007, Filmus got a 23% of the votes in the City, and right after that Cristina Fernández de Kirchner was elected president in the first round, which means that on a national level, our support is broader now," he assured.