News of the World exits but the political consequences have just begun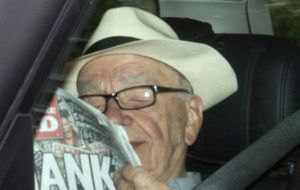 British government lawyers are drawing up a plan to block Rupert Murdoch's bid for the pay-TV operator BSkyB, the Independent newspaper reported on Monday.
Revelations that illegal voicemail hacking at one of Murdoch's papers, the News of the World, targeted a murdered girl and the relatives of victims of the 2005 London bomb attacks have stirred broad public and political anger, and given a boost to opponents of the BSkyB bid.
They have also raised questions about relations between politicians, including Prime Minister David Cameron, who hired the paper's former editor Andy Coulson as his spin doctor and Murdoch.
As a result, Cameron has come under growing pressure to halt the deal, at least until an investigation into the phone-hacking has been completed.
"We are working on a plan to suspend the deal while the police investigation is taking place," a senior UK government source was quoted by the newspaper as saying. "But we have to ensure it doesn't get thrown out by judicial review."
Murdoch's News Corp, the world's largest news conglomerate, has made a 14-billion US dollars bid for the 61% of the profitable pay-TV operator BSkyB that it does not already own.
The government had said the only criterion on which it would judge the bid was that of sufficient plurality in the media, and that it was minded to accept News Corp's assurances in this regard.
But the Independent wrote that lawyers in the relevant ministry, the Department of Culture, Media and Sport, were "thought to be looking at whether assurances given by News Corp on plurality can be trusted in light of the growing evidence of corporate wrongdoing."
Separately, the phone-hacking allegations have also prompted Britain's independent broadcasting regulator, Ofcom, to say it will consider whether News Corp directors are "fit and proper" persons to run BSkyB.
Ofcom has not given a timeframe, but any Ofcom finding could have consequences beyond the bid, since it is not clear how it could find that News Corp was fit to run 39 percent of BSkyB but not 100 percent.
British media reported on Sunday that an internal investigation carried out by News International in 2007 at its now-shut newspaper News of the World found evidence that phone hacking was more widespread than admitted by the company.
On Sunday, News of the World was out for the last time after 168 years with an only full page heading: "Thank you and good bye". The 48 special page edition and seven million copies was the 8.674 edition.