UK statements on the Malvinas issue are "ridiculous" says Cristina Fernandez
Tuesday, July 12th 2011 - 07:15 UTC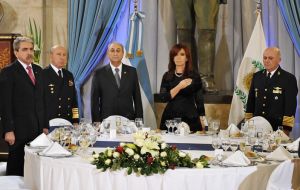 President Cristina Fernandez de Kirchner said that "Argentina is absolutely committed to peace" and dismissed as "ridiculous" statements from the United Kingdom threatening to use force if needed to preserver the occupation of the Falkland Islands.
Heading on Monday night the Armed Forces annual dinner the President said "we want to dismiss the ridiculous statements of a colonial power that is occupying Argentine territory, saying that we are a country on the brink of an attack".
"If there is a policy that Argentina has embraced ever since the return of democracy, and also along its history, is that of avoiding a conflict scenario. Argentina once again would like to state that it's a country of peace whose involvement in peace missions has been acknowledged by United Nations" said President Cristina Fernandez.
"Our Armed Forces should always be linked to democracy and subordination to civil power, so we become an example of military and scientific development once again".
Mrs Kirchner stressed the "importance of strengthening our defence system, because the countries that sold us weapons never transferred technology. I want a country that doesn't have to give up its development on issues imposed from the outside".
"That is why we have created with the Ministry of Science and Technology the first stage of the Armed Forces lab to produce medicines and pharmaceutical items", she added.
"We all know that we had to give up scientific and technological development by outside imposition. Now we are in for developing technology and our own patents, as a way also of avoiding a negative impact on out trade balance".
Cabinet Chief Aníbal Fernández, Foreign Minister Héctor Timerman, Interior Minister Florencio Randazzo, Economy Minister Amado Boudou, Defence Minister Arturo Puricelli and Planning Minister Julio De Vido joined Fernández de Kirchner in the dinner.
"Let us again be an example of scientific development to the world as we were once. We can do it again, we have the capacity to achieve it", underlined the Argentine president.